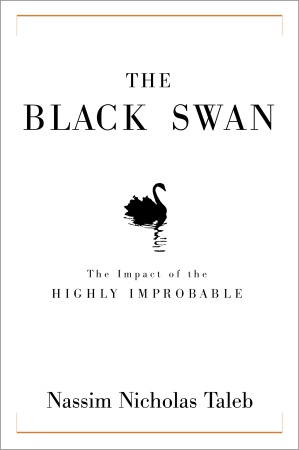 Yo Gabba Gabba and Gamma Boy's recent tizzy over the effectiveness of models, financial and otherwise is perfect fodder for a book that I am currently reading called
The Black Swan: The Impact of the Highly Improbable
, by
Nassim Nicholas Taleb
.
I'm only on page 70, but an important point he has made so far is summed up in the story of a Thanksgiving turkey. Say a turkey lives for 1,000 days, he gets fed handsomely every day and life is great. If he were to model his expectations for the rest of his life based on what he knows, he would fail to account for his slaughter on day 1,001.
I highly recommend the book. It'll change the way you think, plus he's a good writer and all-around interesting guy. And
his hedge funds are up 65% to 115% this year
. Incidentally, I think Black Swan thinking needs to be incorporated somehow into the Sensible Party's platform. It has vast implications for public policy as well as business planning.
I'm touting this book to move the discussion along, not to say that all models are bad. I think we need to be judicious in how we use them. In the case of climate science, they represent our best guess based on what we know. However, we shouldn't ignore the chance that a Black Swan event could invalidate the model completely.